What Veterinarians Need to Know about Cannabis
Gain a working knowledge of cannabis as a therapeutic agent and its status in the practice of veterinary medicine. Dr. Jeffrey Powers, member of the AVMA's Council on Biologic and Therapeutic Agents, and Dr. Gail Golab, AVMA's chief veterinary officer, explore the potential benefits, risks, and legal regulations surrounding cannabis and cannabis-derived products.

Dr. Gail C. Golab, PhD, DVM, MANZCVS, DACAW, is Chief Veterinary Officer for the AVMA, overseeing our Animal and Public Health, Animal Welfare, and Global Outreach Divisions. She has been in several key roles for the AVMA. Previously, Dr. Golab spent several years in private companion animal practice, and prior to that served as Biochemical/Biomedical Research Consultant at the National Center for Supercomputing Applications at the University of Illinois. Dr. Golab is best known for her more than 30 years of work in the human-animal interactions/animal welfare field that includes experience and accomplishments in research, policy development, and practical applications. She has served on advisory committees on the care and use of animals in agriculture, biomedical research, the pet industry, entertainment, and human healthcare applications. She graduated with a PhD from Texas A&M University, a DVM from the University of Illinois, is certified as a member of the Australian and New Zealand College of Veterinary Scientists (Animal Welfare), is a charter diplomate of the American College of Animal Welfare (an AVMA-recognized veterinary specialty board), and a Distinguished Practitioner in the National Academies of Practice.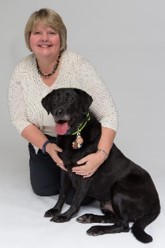 Dr. Jeffrey Powers is the founder and owner of Beaver Island Veterinary Services and the owner of Jordan Valley Animal Clinic, providing mixed animal veterinary services to the community of Beaver Island in Lake Michigan and East Jordan Michigan.
He is also the founder and former owner of South Sanilac Veterinary Hospital in Peck, Michigan. He continues to care for all animals large or small which explains why his customers often describe him as very caring, sensitive and compassionate in the care of their animals.
Dr. Powers currently serves as an AVMA At large representative, Council on Biologics and Therapeutics, 2017 Alternate Chair Clinical Practitioners Advisory Committee.